ERYKAH BADU LIVE IN KENYA (More details)
Posted by
Susan
on 24-11-2012
Tusker Lite Experience
Featuring Erykah Badu Live in Concert!
11:12:12, the eve of 12:12:12.
"This is one artist who will never stop surprising us, musically, or otherwise. Catch this prolific artist when she headlines The Tusker Lite Experience in Nairobi on December 11th."
Langata Road, Near Wilson Airport,
PO Box 56685, City Square 00200, Nairobi, Kenya
Tel: 020 6005933-7 6002764
Mobile: 0733611608 / 0722204648
Tickets on sale at: www.capitalfm.co.ke, Capital Fm offices, select nakumatt and Dorman outlets
Price: Ksh 4,000 and VIP - Ksh 7,500
Kenya: Erykah Badu for Next Tusker Lite Experience
Posted by
Susan
on 16-11-2012
BY LAURA WALUBENGO
Erykah Badu has been confirmed as the next headline star for the Tusker Lite Experience, which takes place in Nairobi on December 11.
The First Lady of Neo Soul's performance will mark the Tusker Lite Experience's first anniversary, as it takes place a year since the event kicked off with Donell Jones.
The Experience at the Carnivore Grounds will be as intimate as usual, with added oomph to mark the end of the year as well. Jones, Joe Thomas and Johnny Gill were past Experiences orchestrated by Tusker Lite.
Badu will bring her fiery entertaining spirit to Nairobi, so well witnessed in her live performances across the world.
Read more.
Erykah Badu Live New Year's Eve 2012 A.D.!
Posted by
Susan
on 10-11-2012



See Erykah Badu Live

on

New Year's Eve 2012 A.D.!

Get Tickets Here:

On sale to General Public

Start: Fri, 11/09/12 12:00 PM PST

Fox Theater - Oakland

1807 Telegraph Ave, Oakland, CA 94612

Mon, Dec 31, 2012 09:00 PM
TSU Homecoming 2012 Hip Hop R&B Concert
Posted by
Susan
on 09-11-2012
THEY DIE BY DAWN (OFFICIAL TRAILER)
Posted by
Susan
on 09-11-2012
Okayplayer.com: There's 2 kinds of directors in the New Hollywood. The kind that make black cowboy epics with Jamie Foxx. And the kind that make Black Cowboy Epics with Erykah Badu, Michael K. Williams, Rosario Dawson, Giancarlo Esposito and Isaiah Washington. That 2nd, far, far doper, kind of director is represented on planet Earth by only one man however: Jeymes Samuel–the Jay Elec-producing, Idris Elba-collaborating, guerilla James Bond theme-writing founder of The Bullitts. Today we get the official trailer for his lesson on how to make a Black Cowboy Epic correctly, They Die By Dawn. And here's betting we're gonna have some more big news (and maybe some music?) from this perfect storm of a flick quicker than you can say "Mama's Gun."
Watch the official trailer below. Here you can find captures and here movie stills.
Mama's Gun: The full story
Posted by
Susan
on 29-10-2012
Meandering, occasionally impenetrable... yet a masterpiece nonetheless.
By Daryl Easlea 2012-10-24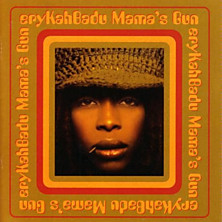 When Erykah Badu's debut album, Baduizm, was released in 1997, with her headdress, Billie Holiday vocal inflections and her smart, spot-on reinterpretation of R&B, she became the high-profile female figurehead for neo-soul. When Mama's Gun arrived three years later, it carried huge levels of expectation.
Follow-up albums are forever fascinating. Often, you are damned if you do and damned if you don't. If Badu had given the world another Baduizm, everyone would have accused her of simply standing still. Instead, she flew freely and deeply into alternative arenas and released a meandering, occasionally impenetrable masterpiece.
Read more
.
Erykah Badu keeps on moving, like a rolling stone
Posted by
Susan
on 26-10-2012
Singer says she's "always perfecting" her live show
Erykah Badu talks a lot about life's perfect circles. She talks about the earth. She talks about wombs, about birth canals and about babies.
Sometimes, Badu talks about all this in between songs at her concerts, which are events, really. Badu's shows incorporate more than just her striking, iconic looks, sublime voice and the adventurous musicians who back her. She chats with her audiences, often using the language and symbolism of Nation of Islam theology or pan-African mythology to get at the essence of compositions like her first hit, "On & On," with its repeated line, "My cypher keeps moving like a rolling stone."
Read more.
Gallery update
Posted by
Susan
on 26-10-2012
New events!
Posted by
Susan
on 09-10-2012
Erykah's going to perform with Rickey Smiley during the Love & Laughter Tour on October 19 and 20 in Charlotte, North Carolina and Norfolk, Virginia. For more information visit the 'tour dates' section.
Plus, Erykah will be at the Reunion: Official SU Homecoming Experience. For tickets, please visit this link.
Erykah as the ICTC International Spokesperson
Posted by
Susan
on 21-09-2012
Erykah Badu is the International Center for Traditional Childbearing (ICTC) International Spokesperson.
The International Center for Traditional Childbearing is an infant mortality prevention, breastfeeding promotion, midwife and doula training non-profit organization. The ICTC's mission is to increase the number of midwives, doulas and healers of color, to empower families in order to reduce infant and maternal mortality.

ICTC trains doulas nationally. To help reduce the health disparities, ICTC trains doulas nationally. Erykah Badu is a practicing doula and plans to be certified by the ICTC.

The 8th International Black Midwives and Healers Conference is October
19-21, 2012 in Miami, Florida. For more information and to become a member today, please visit: ictcmidwives.org.
Here you can watch the video of Erykah talking about ICTC.